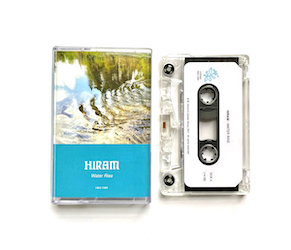 HIRAM – 'Water Rise' C30
An offering of ethereal evaporation sound from HIRAM, bearing new works in morphing formation. Several pieces document the artist in live outdoor solo actions over the Summer of 2021, with music created both in the midday shade of the Mississippi River's shore in Minnesota, and under the nighttime desert skies of New Mexico. The track "Wind Song" is built upon the grace of nature's breath, with field recordings from Joshua Tree, CA blending with the melody of a 15 string zither. Hiram's use of horns, flutes and reeds through the work breathes an air of life, with electric piano, voice, chimes, tongue drum, shruti, tanpura, synthesizer and tapes mixing with the sounds of the environment, connecting self to space in a new form of harmonic resonance. Music for condensation. Dedicated to our Earth's most precious water, bringer of all life. Real time duplicated, clear shell Chrome Type II c-30 cassette with b/w printed labels and hand-stamped green ink detail. Comes packaged with double sided 12 pt gloss cardstock J-card, featuring original full color photography from the Boundary Waters Canoe Area Wilderness. Limited edition of 40 copies.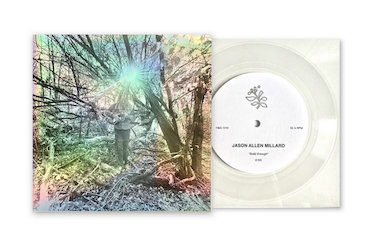 JASON ALLEN MILLARD – "Solid Enough" b/w "Dark of Night" 7″ lathe
A lovely dish of blasted basement balladry from J.A.M. "Solid Enough" brings a late night deep twang, with a lost highway tone and shambolic strum. "Dark of Night" is wedged into an opposing corner, with J's tell-tale magnetic blur and warped acoustic zone, some weird shit hides in the shadows. "I'm up all night hearing my wheels spin. Up all night, up at night again." Square record cut in MONO to clear polycarbonate with printed b/w labels and hand-stamped metallic silver ink detail. Housed in clear poly inner sleeve and packaged in white reverse board outer pocket sleeve with custom paste-on artwork featuring original photography with silver hologram printing. Ultra-limited edition of only 10 hand-numbered and stamped copies.