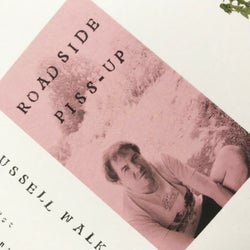 Russell Walker – 'Roadside Piss-Up' £4 (world)
Russell Walker (The Pheromoans, Bomber Jackets, Charcoal Owls) presents two slices of tangled poetical musings. Short stories and jumble sale chit chat tangle together across 30 mins of clotted jotter stock – spread out and torn up, then spread out again. Broadcasting directly from the addled hive mind! A human radio tunes in and checks out – broadcasts tumble out over the home counties, slip out on the A roads and slither into the service station forecourts. "Tonic from the 24 hour palace…" Limited to 44 copies, clear tape with "rave worm" on-tape sticker and pro-printed full colour artwork on HEAVY paper. Album photograph by Rowan Walker.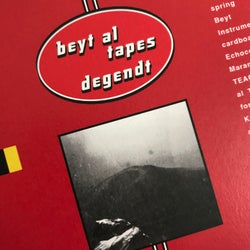 Beyt Al Tapes – 'Degendt' £4 (world)
Following a triumphant appearance at Colour What Done Gone Up There FEST in Brighton (choccymunk.fr.com), Beyt Al Tapes presents a welcome dose of cosmic brain gunge – guaranteed to take the edge off. If dribbly analogue squelch and foggy hypno-mumble are your bag, get ready… Lost in the haunted jungle, dosed up on loopy juice, the chainsaw circle tightens. Come! Ride down the mountains of madness and stop at the burger van of eternity – we're buying. The secret sauce is experimental music, hehe. Limited to 51 tapes with pro-printed "Lycra Summit" artwork, this is a pure, loving tribute to the Flemish meteor. Clear tapes with black mountain on-tape stickers. Gira d'Beartown! :/
Slump – 'Shashlik Mandibles' £4 (world)
Rising from the ashes & collapsing into more ashes. Slump returns with another artefact from the digital tomb. "According to Barbara Speake, founder of the eponymous stage school Collins later attended, "Phil was always special; aged five he entered a Butlins talent contest singing Davy Crockett, but he stopped the orchestra halfway through to tell them they were in the wrong key." His professional acting training began at the age of 14, at the Barbara Speake Stage School, a fee-paying but non-selective independent school in East Acton, west London, whose talent agency had been established by his mother." A double sided C30, 15 minutes from side A repeats on side B. Double the fun. Complete with full colour pro-printed "transcending Runcorn" artwork.